The U.S. government is known to be one of the market's oldest and largest purchasers. In fact, it purchases billions to trillions per year in goods and services.
Regardless of business size, understanding how to approach and win government contracts is a key component of success or failure for many companies. Winning the first contract can be a perplexing task, but there are resources to make it easier. Keep reading to learn more.
What are government contracts?
They are legal agreements between a government agency and a contractor that obligates the government agency to pay for goods or services. Once the contract is awarded, the business must fulfill its part of the deal according to the terms of the agreement.
There are two types of government contracts:
Prime contracts are entered into between the government and a prime contractor. This is where the government's goods or services will be delivered and where it directs most of its oversight efforts.
Subcontracts are agreements between prime contractors and subcontractors who provide goods or services to fulfill their obligations under the prime contract.
Is government contracting easy?
Small firms interested in government contracting may find the federal government process daunting. This section will discuss the pros and cons of doing business with them.
Pros
Doing business with the government requires a special set of skills and knowledge. So before jumping in, it's essential to learn about what it takes to be successful as possible.
1. Better pay
It's no secret that being a government contractor can be lucrative. The federal government spends billions every year on contracts, and much of that money goes to contractors as payment for their services.
In 2017, it was reported that the average federal worker earned an estimated amount of $90,000 annually. Meanwhile, an average federal contractor earned about $100,000 in the same year. These rates considerably fluctuate according to the agency you work for and your profession.
2. Easy to obtain
If you want to do business with them, you have to be willing to fill out a lot of paperwork. Most of the paperwork is required by law, and you must comply with their regulations. The good news is that once you've filled out all the required forms, you'll be able to bid on federal government contracts.
3. Experience the flexibility
You don't have to go to the office at a particular time as long as you've completed your projects, and you can be working from home all day if you want to be.
4. Lots of opportunities
It offers federal contracting options in many fields, locations, and industries because it is so large. If you are a seasoned management consultant, there are countless federal business opportunities in agencies like the Department of Defense or Veterans Affairs.
For small business contractors who make widgets and gadgets, government agencies also need those. In fact, certain departments like to specifically work with small businesses to ensure that they are not crowded out.
5. Transparency
There are strict policies and federal regulations for every transaction made with every contractor. These rules ensure that all transactions are honest, fair, and transparent.
Aside from this, the federal government's transparency policy benefits both parties by promoting full disclosure and accountability. It forces the government to disclose information regarding its transactions with contractors to easily identify where their money goes.
6. Prompt payments
Government agencies should pay prime contractors on construction projects in 2 weeks after issuing the invoice for a progress payment. The retainage and official payment should be within a month after receiving the invoice.
7. Stable
Many private sector companies are constantly looking for ways to cut costs, including payroll expenses. This means they may cut employees and trim hours when things get slow. If you work for the government, this isn't an issue as long as there is a need for your job.
Cons
The government is excellent to work with, but there are some significant drawbacks to being a contractor. Here are some of the disadvantages.
1. Job security
Many business owners relying on government contracts can be a double-edged sword. On the one hand, they guarantee a steady stream of revenue.  On the other hand, the government is also very easy to lose if it decides that your firm doesn't fit its needs anymore.
2. Big competition
If you're a contractor and your business is going well, you might compete with major companies for government work. This can be a downside of working as a government contractor. You may have to face off against some of the large businesses in your field.
3. No benefits
The disadvantage of being a contractor is that you don't get the benefits of government employees, such as retirement packages, health insurance, paid time off, and pensions.
4. Rigid regulations
The federal government has numerous regulations and rules that all federal contractors must adhere to, such as the Code of Federal Regulations and other labor standards.
Bidding on a contract requires registering for the SAM and Small Business Administration. Aside from that, you also have to obtain NAICS code and Unique Entity IDs. After that, you have to accomplish RFP and RFQ write-ups to become a potential contract bidder.
5. Dealing with government officials 
It can be challenging to deal with these officials who look down on contractors, believing they make their jobs harder. Also, they find contractors less capable than government workers, and they might not appreciate the value that contractors provide.
Where do you find government contracts?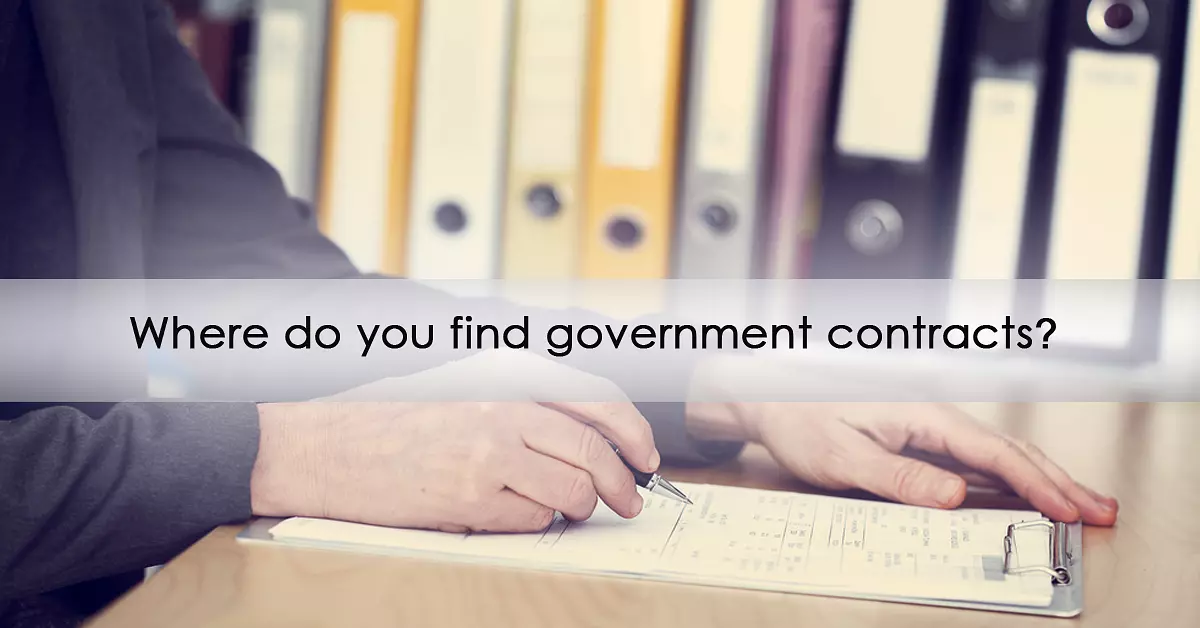 The first step in bidding on federal contracts is finding them. Fortunately, several websites provide information about the federal contracting process and opportunities.
1. beta.SAM.gov
Use the Contract Opportunities search tool to look for federal contract business opportunities based on location, keyword, NAICS code, or solicitation number. It's a good starting point when searching for federal contracts because it explores every federal agency and active contract awards.
2. FedBizOpps.gov
This website is the online home to all U.S. government procurement opportunities valued at over $25,000. Searchable by keyword, the site contains a wealth of information on government procurement, including details on recently awarded contracts, agency summaries, and more.
3. The Dynamic Small Business Search 
This is maintained by SBA and is the federal government's online tool that lists small businesses eligible for federal contracting opportunities.
4. SubNet
This contains a database for subcontracting opportunities. Also, it's an ideal option if you have no experience working on a government contract in the past and plan on starting an enterprise with experience to walk you through.
5. The GSA Schedules Program
This database was created by the Government Services Administration (GSA) as a sort of contract and sub contract catalog. Getting a GSA schedule means that your company is now a government contractor, and you can bid on new government contracts
Are government contracts profitable?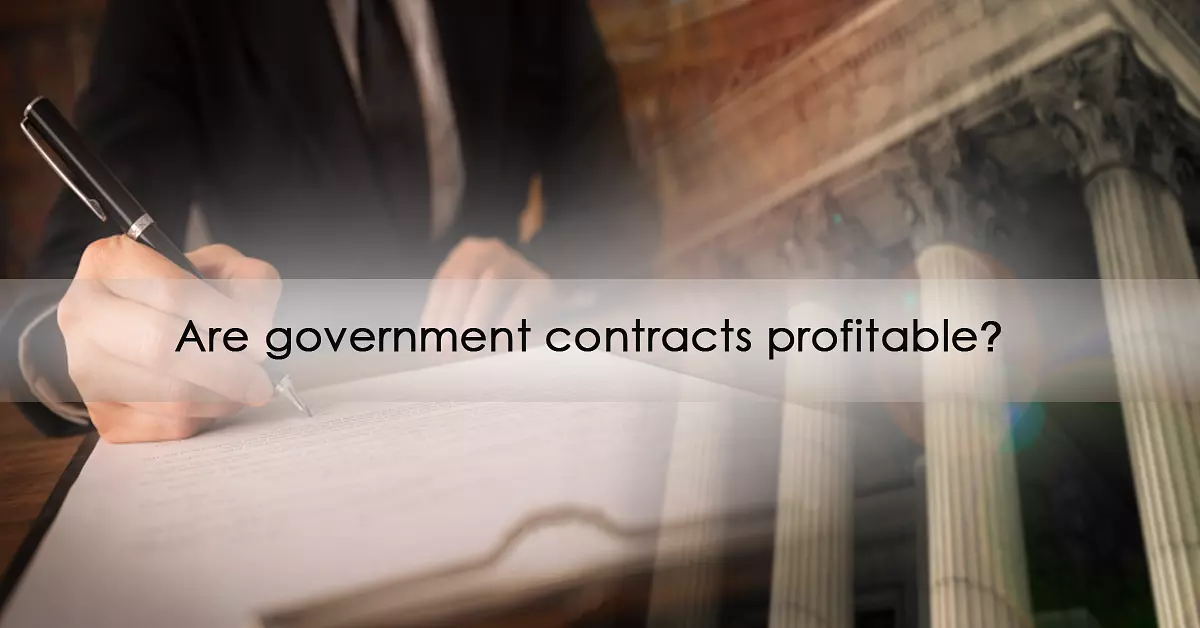 Whether it's your company's first contract or you've been providing products and services to the federal government for years, one thing is certain: Government contracting can be very profitable.
Government contracting allows businesses to get paid for providing products and services that help the government meet its goals. The federal government allocated over 140 billion dollars to contracts with small businesses in 2020.
Government contracting gives you access to the world's largest customer (the U.S. federal government). It also can provide your business with stability, profitability, and growth opportunities you may not find in other markets.
How to start bidding on a government contract successfully?
Many big companies have the skills and expertise to work on a contract, but they may not know about the proposal process. Here's how to bid on a contract successfully.
1. Get certified as a contractor
The federal government has very strict laws regarding issuing a contract. In addition, many federal agencies do not accept bids from companies that do not have the proper paperwork in place.
2. Do market research
A business must have a solid knowledge of the market and a clear idea of what it can offer. The first is to research the government's needs and wants, what it already has in place, and how your products or services could benefit from it. The second is to determine which agency would be most beneficial for your business to approach.
3. Be meticulous in bidding on a federal contract 
The project's complexity and size should be considered and ensure that you have the resources available to complete it effectively. Marketing your company for a bid can be long and laborious, so make sure that you are prepared for the amount of work necessary to prepare and submit a bid.
4. Thoroughly Review the RFP document 
The RFP is the document that tells you exactly what the government is looking for when fulfilling its needs. It includes what's required in materials and services, how much the government is willing to spend, and how the bids will be evaluated.
5. Start writing your contract proposal
You have to write a formal and winning proposal and submit it to the requesting authority following their specifications.
Ensure that your proposal contains the following:
A clear statement of all the objectives and goals of your project
Proposed solution ideas in words
Proof that you understand the contract requirements
Show that you have enough experience to complete this job adequately
6. Know the pricing 
Ensure that your prices are competitive but not too low. You don't want to underbid yourself and lose money on the project.
7. Review your final proposal and submit
After writing your proposal and before submitting it, you'll need to go over your proposal and make sure each aspect of it is accurate, complete, and in compliance with state or federal laws.
8. Wait for a response from the government agency
Waiting for a response can take months. They will either reject the proposal or send a notice of intent to award the contract. If rejected, you are free to bid on other upcoming contracts. If you receive a notice of intent, they will enter contract negotiations with you.
What are the easiest government contracts to win?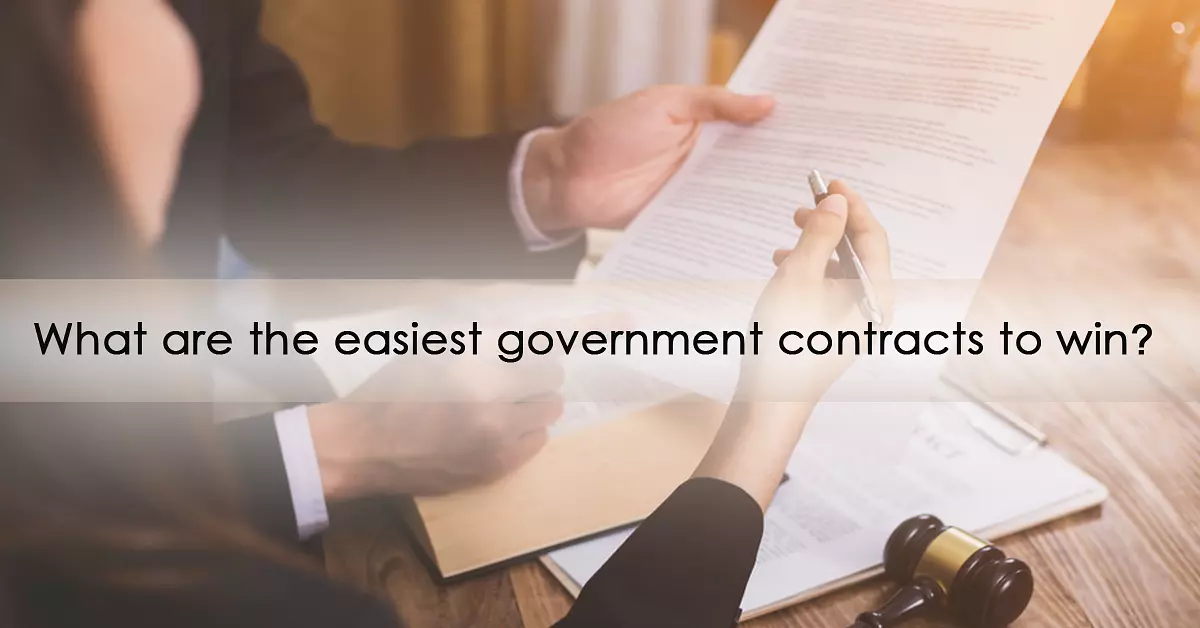 The best way to determine the likelihood of winning is to look at your company's past performance. If you don't have relevant past performance, teaming up with other companies can be effective.
Make sure your team is comprised of companies that have a strong track record of success in similar contracts, as well as companies that have won contracts in the location and agency you're targeting.
The GSA Schedule contract is the easiest government contract to win because it's a long-standing contract with commercial industries providing the government access to millions of commercial services and products at affordable prices.
Aside from the GSA, there is no definite answer to what is the easiest government contract a small business can get. However, certain industries have more opportunities than others. Some of these include:
1. Service contracts
A service contract is a non-manufactured product. The government needs people to provide janitorial, construction, research and development, and consulting services.
Construction
The federal government relies on construction firms for various services, from new roads to new office buildings to new research facilities.
Research and development
This is a vital part of the U.S. federal government's ability to create new technology, maintain its technological edge over adversaries, and keep its military supplied. These R&D contracts are issued by several different agencies, including the Department of Defense.
2. Information technology contracts
As technology has developed and changed, so have the IT needs of the U.S. government. In 2015, the federal government spent more than $80 billion on information technology.
3. Medical Services, Pharmaceuticals, and Biologics
The government is always looking for novel ways to improve the health care system and make it more efficient and look for better ways to help people who aren't getting the care they need.
An example of this is when J&J partnered with the U.S. government with a $1 billion investment to speed up the vaccine's development and production even before proving its effectiveness.
The world has all kinds of businesses that are interesting for winning government contracts. No matter how big or small companies are, they can choose to bid on government contracts if they are interested in conducting business with the government.
Business owners find this process very beneficial, as they can quickly make a lot of money. The federal government is one of the biggest purchasers in the country, so if a company wants to increase its revenue streams, it could look into bidding on government contracts.