What is a corporate event?
A corporate event is an event conducted and sponsored by any business entity. Product launch, milestone celebration of the business, or team building activities are examples of corporate events. However, with a broad range of definitions, corporate events can benefit stakeholders, customers, and potential clients.
Whenever you conduct an event, you will encounter challenges that may hinder the event's success. These possible challenges can be avoided if you prepare a well-planned event.
But how would you go about doing it? Find out the following answer to your query and scroll through the end to know more about enhancing your event planning capabilities.
How do you organize a successful corporate event?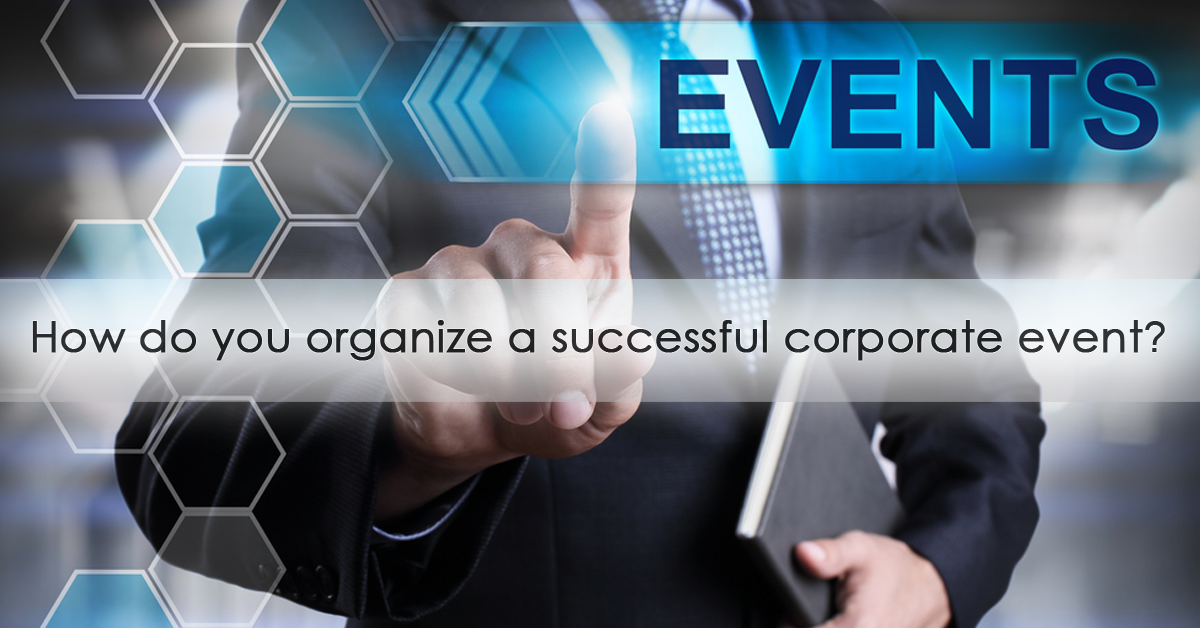 Keep in mind that everything will not come according to your plan when you become an event planner. You will undoubtedly face various challenges in being able to keep your event running smoothly. The following are some ways you can apply to manage a successful event and avoid unnecessary circumstances.
1. Define your purpose
One of the essential things for event planning is to define why the event is made. You should formulate your event goal as precisely as possible. To help you to find your event objectives, you may ask yourself the following questions:
Do I want to express appreciation to employees, business partners or stakeholders?
How many guests am I going to cater to?
How much money do I need?
Will I raise funds for a charitable cause? Or
Will I offer great entertainment to the participants?
These questions are some ways to help you find the purpose of your event. After finding out the solutions, you will think about the concept, venue layout and design, role distribution, sound system, etc.
2. Identify the event
The following are the types of events that you can conduct:
Product launch
Conferences
Company events
Leadership summits
Holiday parties
Seminars and workshops
As you choose an event category, event planning may differ. The listed types here are just some of the few options available to you. For more details about events, read this related article here.
3. Get sufficient planning
To have a good planning process, you should think thoroughly about your logistics, event marketing plan, content, and promotional plan. It will be good to have a document that is easily accessible to the whole event management team, where they can see the progress of the tasks and identify who needs help along the way. You may use the available online tools such as Google templates, sheets, Asana, Trello, Basecamp for your planning.
4. Create a plan for budget and unforeseen expenses
The funding can impact the overall aspect of the event, from the choice of venue, guest speaker and up to the level of staffing, technology, entertainment and even food catering. However, do not just get stuck in the essential things you need. Always think of unforeseen or unwanted expenses.
For example, there was an equipment malfunction and needed to find a tool to fix it or look for another supplier. With that, your event budget shall be flexible. Unexpected costs are common during events, and supplier costs are sometimes presented as estimates rather than fixed rates, therefore it's critical that the entire budget is controlled appropriately and contingency plans and funds are in place.
5. Find a venue
If you set a large-scale event that will include speakers and panel discussions, a venue with two or more big auditorium rooms is recommended. These will allow your event to have many attendees and the speaker to have enough room for any video or slide presentation.
If your event also features smaller networking or breakout sessions, make sure that the venue has a variety of spaces, such as conference rooms and lounges to cater to breakout groups. Your event type will affect the venue that you will choose. So make sure that your venue will cater to your expected number of attendees and a few more spaces for more attendees.
For in-person events, you will also be needing security personnel to maintain peace and order within the venue. Meanwhile, If you will be having a virtual event, make sure that the event app, online platform or software that you will use can handle more than your expected number of attendees.
6. Create brand awareness
The tone of your event is created by the branding, theme, topic, even the event website, event app or page design. You want people to think of your business occasion as having a strong personality and strength when they think of it. As a result, strong branding gives direction and vision for your event.
When picking branding, remember that it will represent your organization's brand, but it should also have its own identity. For event branding, consider the following:
Event name: Your event's name is the first thing your attendees will notice, so make sure that it reflects the vision of the large-scale event or small events you are planning.
Theme: A name alone can't tell the whole story of your event. An event theme ties up the event and attendees together.
Color Palette: The event logo and color should be consistent across all marketing materials. In this way, the possible participants, event sponsors and partners will never get confused about the event's layout.
Other materials:  Branding is a big thing to do. So keep in mind that every element such as On-site decorations, Email blasting, media relations, and online registration should come together to support the story you are telling.
7. Allocate responsibilities
It is important to distribute the tasks equally to the co-event planners and team members during the preparation stage and, most notably, during the event proper. Learn to assign who will be assigned for the registration process, take care of the keynote speaker, social media, attendee's final payments, etc. When you set a specific person to a particular task, they will be responsible enough throughout the entire duration of the occasion.
What are the three important steps in organizing an event?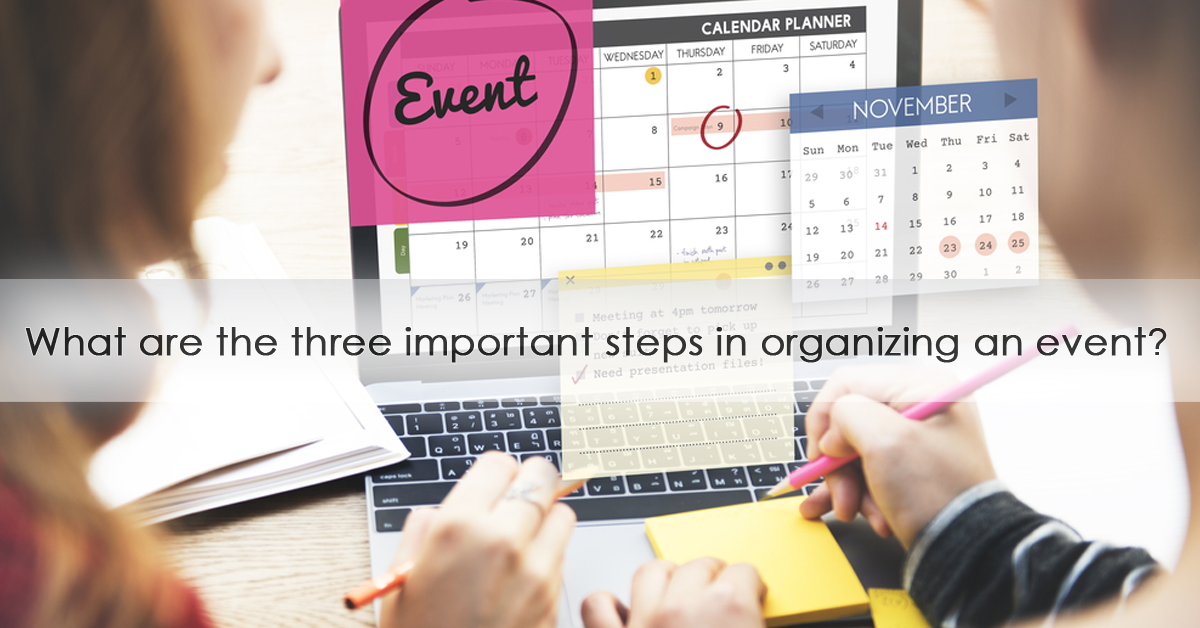 There are several ways to organize an event successfully. Each method works differently for every planner. However, there are three critical steps in event planning that you shall remember.
Team planning
A single person cannot organize an occasion alone; you surely need a team to work with you. Why do you need a team to be involved in planning? As a planning team, you will set goals and objectives, event schedule and most importantly, a budget encompassing all event parameters.
The rest of the preparation will go much more smoothly if you have a goal in mind. If you have a team, you will quickly achieve what you want your business gathering to reach. Also, during the meeting planning, your team can give you ideas that could enhance the experience of both the organizers and participants.
Venue and Marketing
Everyone knows that you cannot plan both small and large events without having any place for them to take place. Finding the perfect location to hold a business gathering can be challenging on the overall theme, budget, and feel you want your attendees to feel.
Another part of the event planning is the vendors requesting sponsorship packages and partners. Once you have found your venue, you will begin to create a list of the overall designs for your venue. With that, you will pull out all your contacts in lighting, music, catering, or if you conduct an online event, you will find the right platform, media provider, mobile event app and many more. While many venue locations provide some of these services, you may still need to use your contacts depending on what an event requires.
At the same time, the venue affects your marketing because it somehow catches the attention of the attendees. If you have a suitable venue, many people will undoubtedly be glad to join.
Marketing your occasion means working with a potential brand ambassador, sponsors or partners. What makes marketing so significant is that you want your jamboree to stand out from other events and receive recognition. Your marketing plans are crucial to your attendees because they need to know the details about the time and place to attend.
As for your potential sponsors and partners, they might depend on your branding and marketing plans before they give out their sponsorship opportunities or help on your event. They significantly examine every aspect of your paperwork, so make sure that you and your team had a good brainstorming session.
Corporate communications and public relation
Communication is essential to let your thoughts be heard. The successful conveying or sharing of ideas and feelings makes two or more people know each other. In event planning, communication with the event management team helps to avoid misunderstanding and build stronger relationships. As for your target audience, public relations or the organizer's presence is essential because it makes them feel that organizers care about them.
Addressing the public also helps spread the word about the gathering. It serves as an advertisement because the potential attendees are more likely to encourage other attendees like their family and friends if they feel that the organizers are hearing them out.
During the event, you are talking to them with the small details you provide, such as the signages where to go, providing enough staff to assist people with questions, and even a well-staffed information desk.
It is also important to send a post-event follow-up survey and questionnaires to the event community members, sales teams, local businesses, to help you measure success and learn what you need to improve for meeting objectives on your next event. By doing so, you're allowing yourself for networking opportunities and signaling to others that you're always willing to help and provide a positive experience.