There are many reasons to bid on federal contracts, one of which is to potentially acquire a long-term and very profitable contract that will help your organization expand and support itself over time. Depending on the contract you bid may also make your own business attractive for other opportunities and even partnerships. Many state and local contracts include measures that assure the deal will extend for years.
Securing a federal government contract creates a never-ending opportunity and growth for the business. However, when it comes to obtaining government contracts, business readiness and other things are needed to consider. Listed below are some of the winning strategies on how to bid on federal government contracts.
Understand your business
You did not establish a winning business without any reason, so it is essential to take a comprehensive understanding of your business, market, target audience, especially your products or services. Asking yourself "What can my business offer?" can help you to easily classify the type of contracts you can bid on.
Take advantage of your uniqueness
No matter where you look at the business industry, there are still businesses that are way ahead of you. They may have more resources, employees and customers, but that does not mean they are suitable for federal business opportunities. As a small business, you may offer something more attractive than the big companies have. Maybe your business can accommodate the government's need, produce a product or service on short notice, or perhaps you can give more than what the contracts have.
You do not need to be worried about dealing with large companies on bidding government contract opportunities. All you need to do is to take advantage of your uniqueness to compete. Also, lucrative contracts are designated for small, women-owned, minority-owned, veteran-owned, and businesses with socio-economic status. So, if your business belongs to one of these categories, then surely the government and procurement officers would like to work with you.
Get ready for the paperwork
Winning government contract opportunities needs a lot of paperwork. So, when you get into federal contracting, you may want to do preparation. You can search on the local government's website and database for the official guide, requirements, essential papers needed and others.
Depending on your company's service and products, government contracting opportunities can give a lot of profit, benefits, and even a risky journey. From papers to machinery, the government find contractors for almost everything they need, and it is up to you and your business to prepare and win your government contract.
What is needed to bid on government contracts?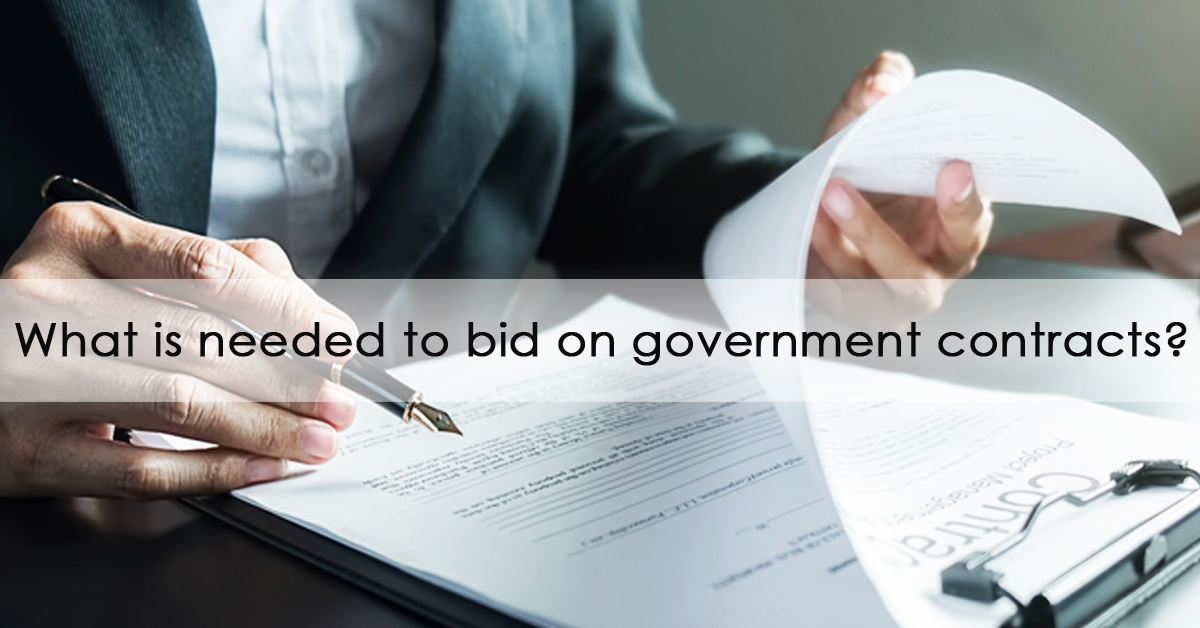 There are a few more things you should know if you want to secure a federal government contract. Some examples are as follows:
Register your business
Before you send your bid to the government agencies, ensure that your business is registered as an official government contractor in the System for Award Management (SAM.) Registration on SAM is free, but you also need to have the following information:
DUNS Number – is an official nine-digit number that may instantly represent small businesses, corporations, or firms. DUN's statistics remained constant during the company's existence. It is also used to trace down businesses and their international financial operations.
Taxpayer identification number – Small businesses always require a NAICS code (North American Industry Classification System). To register and apply for federal contracts, your company will require this code. The NAICS code also benefits the government to categorize a business's industry easily. Please keep in mind that if your company works in various sectors, you may need to obtain and represent multiple NAICS codes.
Employee Identification Numbers – Business owners often use their social security number (SSN) to establish a business. However, the government requires small and large businesses' EINs (Employee Identification Numbers).
CAGE (Commercial And Government Entity) code – This code is a five-character uniquely given to your business. Cage code works as your ID code that enables government agencies and contracting officers to identify your business efficiently. It works like the social security number or NAICS, and if your company works with more than one facility, you will need to present multiple CAGE codes.
Once you have accomplished these government requirements and other small business certifications, your business will be added to the contractor database of SAM, and you will be qualified to bid on projects.
Get a Schedule
After getting certified as a government contractor, you may proceed with getting a schedule with the GSA. Getting a schedule on this government agency or known in the industry as "getting into GSA schedule," is necessary to get access to bidding opportunities from federal agencies.
Enroll in the Simplified Acquisition Program
US Federal Contractor Registration agency releases the Simplified Acquisition Program (SAP) to provide services, technology, and training to assist businesses in entering the federal contracting market. SAP Program is made to allow vendors to compete for contracts valued between 2,500 dollars to 150,000 dollars. Procurement officers award Simplified Acquisition contracts, which are reserved for small enterprises and do not require bids.
The best advantage of Simplified Acquisition Contracts is that a new vendor lessens the confusion to the contracting process and can be a great way to get started in gaining valuable past performance. With that being said, Simplified Acquisition Program can be the best way to get your first contract.
Where to find government contracting opportunities?
 beta.SAM.gov
You and other interested parties can use the beta.SAM.gov website to begin searching for Federal government contracts. This is the official source for government contracts above $25,000.00. It's a good idea to visit this website frequently so you can rapidly determine market size, sorts of opportunities, upcoming contracts, which agencies to target, and what bid to pursue.
Many paid subscription services offer government contract leads, but an excellent place to start is with beta.SAM.gov if you are just beginning. The website also contains a variety of subcontracting opportunities, training videos and other materials to help you thrive in the field of federal contracting.
Dynamic Small Business Search (DSBS)
The Small Business Administration maintains the DSBS, a free-to-use website that allows government buyers to view a list of federal contracts specifically designated for small businesses. Each year, around a quarter of all federal contracts, are reserved for small enterprises. But for your business to be considered small, it must meet the following qualifications:
It must be a for-profit organization.
The company must be independently owned and controlled.
For its particular product or service, the corporation cannot have a national monopoly; and
The company must have an office space situated in the United States or one of its territories and conduct business there.
General Service Administration (GSA)
As mentioned above, GSA is necessary to get access to bidding opportunities from procurement officers and federal agencies. The GSA publishes a long-term government contract with commercial enterprises in order to have access to approximately 11 million commercial items and services. To submit on GSA, you need to collect all necessary information and submit it to them. For more information, about contracts awarded, documents and requirements needed, visit the GSA and other US government official websites.
How do you price a government contract?
There are various ways you can price a government contract; however, your price might not be guaranteed by a contracting officer if you did not thoroughly research and prepare for it. You can dive deep into the above-mentioned websites, looking for how often quality won out over price or vice versa and paying close attention to the details.
Even though the price is slightly more than other bidders, certain federal contracting officer regularly awards prime contractors with the best solution. Other contracting officers choose to find small business contractors that offer the lowest price while still being technically appropriate. Here are more reminders on pricing a government contract.
Bid aggressively if you want your first federal contract. But keep in mind that your first federal contract might not bring in a lot of cash. Nonetheless, you will earn valuable past performance and experience, as well as contacts with procurement officer/s who will remember you for future, more large deals.
Consider basing your price on the prize from the previous year.
Increase your bids as you gain more previous experience.
Remember:
Read the full bid a second time. You can't afford to overlook anything or fail to follow instructions precisely.
Double-check your bid with a friend or colleague. Check for spelling mistakes and double-check that you've answered all of the questions and submitted all of the needed information.
Make use of your bid template to save time in the long term.
You run the danger of outbidding yourself or selling your services short if you don't take the time to research previously awarded contracts, which can harm your overall bidding reputation and profit margins.
Are bids for government contracts public?
Government contracts are public contracts, and the taxpayers have the right to know. Even the prices in these contracts are not to be hidden from the public. The citizens, prime contractors, agencies, and federal contracting community of the United States can access public contracts or ask for more information on the Department of Justice' FOIA. But take note that the FOIA (Freedom of Information Act) will only provide information that is eligible for public disclosure since this office is intended to promote secrecy in such matters.
Is it easy to win government contracts?
Government contracts can be complicated or easy to win, depending on how you and your business prepare for them. If you think that your business cannot deal with a procurement officer alone, you may hire a contracting consultant or work with subcontracting opportunities.
This read gave you an idea of the winning strategies you can use to obtain these contracts. All that remains is for you to research your industry and gain a better understanding of its dos and don'ts. Therefore, I hope you learn something from this article and apply it as you bid on and win government contracts.
For relevant articles, I highly recommend reading:
How to Get Government Contracts and Partners in GovCon
Government Contracting Guide: What You Need to Know