Now that the full list of 2023 winners of the Wash100 Award, the most exclusive and impressive recognition in all of government contracting and the federal sector, has been announced, voting for the popular vote contest is underway.
Combining input from the populace with the carefully considered opinions of its internal committee, Executive Mosaic spends a good portion of the prior year deliberating on who is going to be named to the next year's Wash100. We ask that in return, you, the reader, participate in the popular vote contest, which ranks the top 30 most beloved candidates out of this highly qualified, accomplished list of company leaders, government officials and military personnel.
Don't hesitate. Vote now for your 10 favorite Wash100 winners at Wash100.com!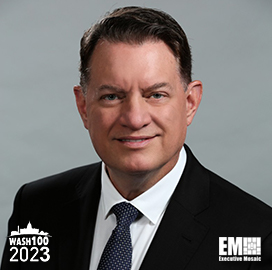 As of this writing, six-time recipient, Microsoft Federal President Rick Wagner stands tall in the number one spot with an early lead. His colleague, Microsoft Federal Vice President of Defense Wes Anderson follows him at number two, while Secretary of Defense Lloyd Austin is the highest ranking government awardee at number three. Rounding out the top five are first-time Wash100 winner and Illuminate Mission Solutions CEO Tameika Hollis in fourth place and Parsons CEO Carey Smith, celebrating her fifth award, in fifth place.
Department of the Air Force Chief Information Officer Lauren Knausenberger is presently at number eight and ascending. Knausenberger beat out tough competition to win the popular vote contest in 2022. Time will tell if she can repeat her achievement this year.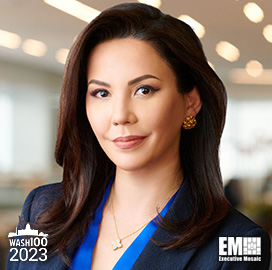 Other notable names include first-time winner, Noblis President and CEO Mile Corrigan just behind Knausenberger at number nine. Corrigan was promoted to her current role leading Noblis in October. New additions to the Wash100 with presence in the top 30 rankings extend to Northrop Grumman President of Defense Systems Roshan Roeder (number 23), Commander of the U.S. European Command Gen. Christopher Cavoli (number 27) and the U.S. Army's Doug Bush (number 30), among others.
We'll be reporting weekly here at GovCon Wire every Friday until voting closes at the end of April to give you detailed play-by-plays of the latest big shifts, reorganizations and new names shaking up the top 30.
Be sure to tune in and cast your votes. Best of luck to all of the Wash100! May the most deserving candidate win.
As of Friday morning, the top 10 most-voted awardees were: