The Potomac Officers Club's Achieve Information Dominance: Counter Gray Zone Warfare Through Unifying Data Forum on Wednesday united top officials from military branches, industry organizations and the Department of Defense in timely conversations on the role of data and intelligence, surveillance and reconnaissance in the United States' hybrid warfare strategies as threats escalate.
The event marked the latest installment of the Potomac Officers Club's JADC2 Series and offered audience members exclusive insight into the DOD's current strategies, activities, changes and progress surrounding its transformational Joint All-Domain Command and Control initiative, which aims to connect all U.S. service branches in a centralized data environment for improved synchronization and enhanced decision-making capabilities.
Following a keynote address from Brig. Gen. Rob Parker, who leads the DOD's JADC2 Cross Functional Team, the program progressed to a panel discussion led by Booz Allen Hamilton Senior Vice President Michael Davenport and featuring Col. Cade Saie, chief data officer for the Army Futures Command's network cross functional team, and Dr. Bryan Tipton, chief architect for the Department of the Air Force's Rapid Capabilities Office.
Watch the full Achieve Information Dominance: Counter Gray Zone Warfare Through Unifying Data Forum and other JADC2 Series events on-demand now at PotomacOfficersClub.com.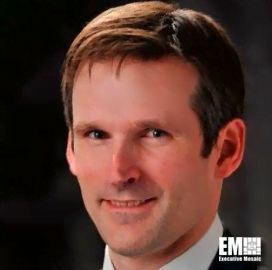 Dr. Bryan Tipton started off the panel conversation with a comprehensive overview of the Department of the Air Force's response efforts to JADC2 with the branch's Advanced Battle Management System, which intends to create a military Internet of Things that can connect sensors to shooters and foster better communications within disparate operations of the Air Force.
Moderator Michael Davenport mentioned that Dr. Tipton was "uniquely qualified" to speak on this topic, as he represents the executive office responsible for integrating ABMS. Tipton shared his insight on some of the initial hurdles in spearheading a successful JADC2 response effort as the ABMS framework was being established.
"As we looked at ABMS, we realized that our command and control systems in the Department of the Air Force are very fragile," he explained. "They're not set up for the fights that we think could be coming in competitional conflict, and they're data starved. Many times there are error gaps in terms of there being no way through a network to be able to exchange data."
Tipton also noted that these issues not only pose command and control shortfalls within the DAF, but they also create frustration for Air Force operators who have to go through tedious manual processes to address them.
However, he called attention to the rapid advancements being made in industry, specifically with the deployment of commercial space capabilities and dual-use technologies, as a sign of potential for federal innovation.
"Our strategy moving forward with ABMS is to try and leverage all these commercial technologies as much as possible with our defense industry partners and deliver capability to our warfighters as quickly as possible," Tipton said.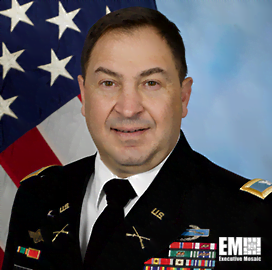 Next, Col. Cade Saie joined the discussion to speak on some of the main imperatives he aims to accomplish through his role within the Army Futures Command as the branch undergoes a shift in its culture and mission in response to rapid adversarial and technological developments.
"One of my biggest challenges is trying to figure out how all these new and existing technologies are going to support this vision to be data-centric and transport-agnostic with a modern security architecture," he shared, noting that "access to data at the point of need is a major priority for the operational force."
This necessary data access, he mentioned, does not necessarily mean equipping every soldier with bulky communication equipment, computers or cumbersome technologies. Saie said the concept requires the Army to strategize how information can get to the warfighter when, where and how they need it.
"We need to have a capability where soldiers can access data at the edge while serving it with our joint service partners, as well as our allies," Saie said. "And if we've learned anything over the past 20 plus years, it's that we never fight alone," he added, highlighting the importance of partnerships in conducting operations in contested environments.
"In order to do this, we have to have data that can be found, enriched, made available and then secured with common standards," noted Saie.
To expand upon this point, Saie said these partnerships require being able to share data in a secure way and tagging this data at the point of creation, to allow military branches to capitalize on technologies like artificial intelligence, machine learning and autonomous capabilities.
To hear the full panel conversation with Michael Davenport, Dr. Bryan Tipton and Col. Cade Saie, visit PotomacOfficersClub.com, where you can view the full Achieve Information Dominance: Counter Gray Zone Warfare Through Unifying Data Forum on-demand now.
Dr. Tipton highlighted commercial innovations in the space domain as a key activity to watch as global competition unfolds. To learn more about the applications of commercial and military technologies in space, join ExecutiveBiz Events for the platform's Dual-Use Technology in Space Defense Forum on Feb. 15.
Click here to register now!