Since 1996, TriWest Healthcare Alliance has focused on providing high-quality health care for Americans, the military, and veterans. The company has been a reliable healthcare provider for U.S. government projects. Read here and learn more about the top TriWest Healthcare Alliance government contracts.
1. TRICARE program in the West Region Support
Contracting activity: Defense Health Agency's Managed Care Contracting Division
Contract type: Cost-plus-award-fee, firm-fixed-price, and fixed-price contract
Value: $65 Billion
The Department of Defense selected TriWest Healthcare Alliance Corp for a $65 billion contract, including the eight- to one-year option periods and 12-month base transition. The company will provide managed care support for the Defense Health Agency's West Region TRICARE program.
Defense Health Agency will use the contractor's resources alongside the military's direct medical care system to create an integrated healthcare delivery system. With this initiative, the firm will aid active-duty personnel, veterans, and their families through health, medical, and administrative support services.
The cost-plus-award-fee, firm-fixed-price, and fixed-price have included performance guarantees and incentives. The transitional phase started on February 1, 2023.
However, after a protest was filed on January 17, 2023, the $65.1 billion Tricare contract for the West Area will be reevaluated by GAO and sent back to defense officials for corrective action. Triwest and the Department of Defense have yet to make any public announcements.
2. Veterans Affairs Community Care Network Support for Region 4
Contracting activity: Department of Veterans Affairs
Value: $26 Billion
Veterans Affairs (VA) awarded Triwest Healthcare Alliance the Community Care Network (CCN) contract in August 2019 to oversee the VA's network of care providers. Under this contract, Triwest led the CCN Regions 4.
CCN is an extensive community provider network that expands care options for Veterans beyond VA hospitals. The CCN consists of five separate networks spread across the United States and is being worked out gradually to all its constituent parts.
Following the CCN contract, Triwest was to provide services like customer support, claims processing, case management, and illness management. Arizona, California, Colorado, Hawaii, Idaho, Montana, Nevada, New Mexico, Oregon, Texas, Utah, Washington, and Wyoming all have VA medical centers in Region 4.
3. Veterans Affairs Community CCN Region 5 and Alaska Contract
Contracting activity: Department of Veterans Affairs
Value: $5 billion
Contract date: October 1, 2020
TriWest was awarded a $5 billion contract to operate the VA's Region 5 Community Care Network (CCN) on October 1, 2020. TriWest Healthcare Alliance will manage the Veterans Administration's CNN in Region 5, including Alaska.
Using an already established network in Alaska, TriWest has provided services to TRICARE members since 2004 and veterans under the VA's Patient-Centered Community Care program since 2014. With CCN Region 5's next iteration of VA community care in Alaska, TriWest will continue to expand its footprint across the state. The program will improve Veterans' access to quality medical services in their neighborhoods.
4. T-Nex project or the New TRICARE West Region
Contracting activity: Department of Defense
Value: $10 billion
Contract date: 2003
TriWest Healthcare Alliance won a contract worth $10 billion for the new TRICARE West Region. The T-Nex project combines 12 regions and many contracts into three contracts that cover the north, south, and west of the U.S.
There will be a 50% increase in TriWest's total workforce as a result of the west-region hubs serving 2.6 million TRICARE-eligible beneficiaries, up from the existing central region's service of 1.1 million. Due to the new deal, TriWest, based in Arizona, will move up to the tenth spot as the largest defense contractor in the United States.
5. TriWest Wins VA Patient-Centered Community Care Contract
Year: 2013
Contracting activity: Department of Veteran Affairs
Contract duration: 5 years
The Veterans Administration (VA) has given TriWest Healthcare Alliance a five-year contract to manage the VA Patient-Centered Community Care (VAPC3) program. It allows the organization to provide health care to almost half of the country's qualified veterans.
The VAPC3 contract improved Veterans' access to health care by creating a high-quality provider network near the Veteran's homes. Under the terms of the new agreement, Triwest coordinated a comprehensive range of healthcare services for its members, including but not limited to patient appointments, referral management, medical document tracking, and claims to process.
TriWest Healthcare Alliance Corp FAQs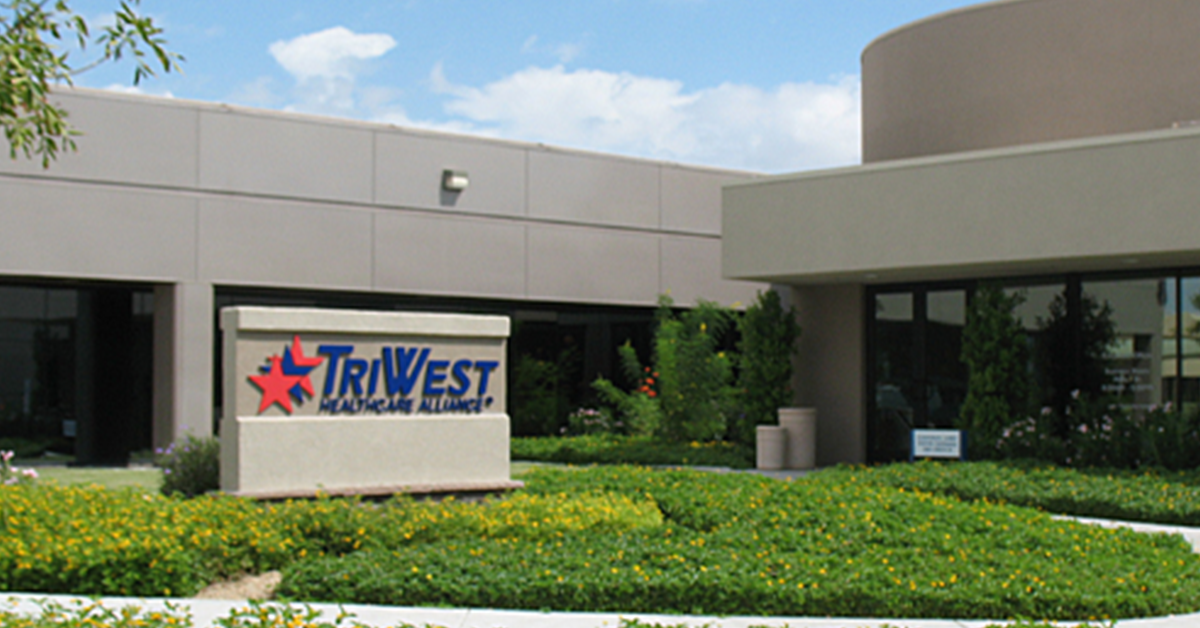 Image from TriWest Healthcare Alliance
Is Triwest Part of VA?
TriWest Healthcare Alliance Corp is a third-party administrator of VA's CCN Regions 4 and 5. Third-party administrators create and oversee regional networks of best VA-contracted health care providers.
Is TriWest a Medicare plan?
TriWest pays the Centers for Medicare and Medicaid Services prices for all DME through the Community Care Network (CCN). CCN only covers DME for urgent and emergency care.
Is Triwest a Nonprofit?
TriWest is a nonprofit organization that works closely with the DoD. The company provides medical care to assist the military personnel who serve the country in the armed forces and their families.
TriWest: Serving Those Who Serve
TriWest leadership ensures that the company will continue to support the military and Veterans' health. The company continuously improves its care system to meet medical and customer service needs.