Jen Sovada, the current President of the Public Sector for SandboxAQ. She is an experienced Air Force Intelligence, quantum computers, and quantum technology leader. Learn more aboutJen Sovada here.
Who is Jen Sovada?
Jen Sovada is a retired Air Force Officer before becoming the SandboxAQ President of the Public Sector. During her tenure as an intelligence officer in the Air Force, Jen specialized in advanced technologies. She has worked in several fields, including requirements definition, system interoperability, and operational testing.
She formerly worked for Intelligence Community (IC) start-up MissionTech Solutions, which Avantus Federal bought in November 2020. She was Chief Futures Officer, Senior Vice President, and General Manager before joining SandboxAQ.
Educational Background
Jen Sovada has a vast educational background in technology capabilities and air force intelligence.
Stanford Ignite, Entrepreneurship, and Innovation at Stanford University Graduate School of Business (2017)
Certificate, Specialization in Design Thinking and Innovation at the University of Virginia Darden School of Business(2017)
MA, Strategic Studies Master of Arts at United States Army War College (2012 – 2013)
MA, National Security, and Strategic Studies Master of Arts at U.S. Naval War College (2007 – 2008)
MS, Strategic Intelligence at National Intelligence University (1998 – 1999)
MA, Pedagogy, Physical Education at the University of Northern Colorado (1994 – 1995)
BS, Behavioral Sciences, Human Factors Engineering at the United States Air Force Academy (1990 – 1994)
Jen Sovada as SandboxAQ President Of the Public Sector
On January 2022, Jen Sovada became SandboxAQ President of the Public Sector. At the top of Jen Sovada's order of priority for SandboxAQ is expanding the use of cutting-edge quantum technologies in government worldwide. Jen is advancing quantum capabilities for the public sector around the world.
Jen Sovada Career and Leadership History
Jen Sovada has worked for the air force and companies in the AI and quantum technology industries for nearly three decades. Here is a rundown of experiences and roles she has taken part in:
SandboxAQ 
President of Public Sector (Jan 2022 – Present)
Georgetown University 
Part-time Adjunct Assistant Professor (Jan 2023 – Present)
Boadicea Solutions
Founder and CEO (Jun 2020 – Present)
Defense Entreprenuers Forum
Chair of The Board Of Directors (Dec 2021 – Present)
Member Board Of Directors (Janu 2020 – Dec 2021)
Director, Washington DC Agora (Jan 2018 – Jan 2021)
Director, External Engagement (January 2018 – Oct 2019)
DEFx Director and Director of Senior Leader (Jan 2017 – January 2018)
Integrity ISR
Adjunct Instructor and Consultant (Dec 2019 – Aug 2022)
Alphabet Inc. 
Head of Federal Teams, Sandbox@Alphabet (Sep 2021 – Dec 2021)
X, the moonshot factory
Head of Federal Teams, AI Unit (Sep 2021 – Dec 2021)
MissionTech Solutions Avantus Federal Company
Senior Vice President (Nov 2020 – Aug 2021)
Chief Futures Officer and SVP/GM (Dec 2019 – Nov 2020)
Leadership Center for Excellence 
Leadership Arlington Cohort Member (Sep 2019 – Jul 2020)
United States Air Force
Head of Talent Management for Air Force ISR (Oct 2018 – Dec 2019)
Special Assistant, Deputy Chief of Staff for Intelligence, Surveillance, and Reconnaissance (Jul 2016 – Oct 2018)
CenterCommander, Air Force Technical Applications Center (Jun 2015 – Jul 2016)
Deputy Director, Defense Sensitive Support Office (Jun 2014 – Jun 2015)
Chief of Staff of the Air Force Fellow in the U.S. Army Strategic Studies Group (Jun 2013 – Jun 2014)
Commander, 22nd Intelligence Squadron (Jun 2010 – May 2012)
Director of Operations, Air Combat Command Intelligence Squadron (May 2006 – May 2007)
Branch Chief, Force Modernization Air Combat Command Directorate for Intelligence (Jul 2004 – May 2006)
Intelligence Systems Flight Commander, 607th Air Intelligence Squadron (Jun 2003 – Jul 2004)
Chief of the Commander's Action Group, Air Force Operational Test and Evaluation Center (Dec 2002 – Jun 2003)
Test Manager, Air Force Operational Test and Evaluation Center (Sep 1999 – Dec 2002)
Collection Manager, Joint Analysis Center (Jun 1996 – Jul 1998)
The Joint Staff
Interoperability Team Chief, Directorate for Intelligence (Jun 2008 – Jun 2010)
United States Air Force Academy
Intercollegiate Program Manager and Assistant Women's Basketball Coach (Jun 1994 – Sep 1995)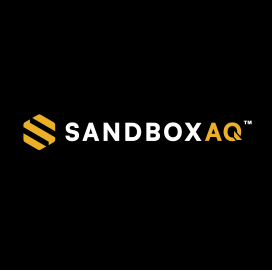 Logo from SandboxAQ
About SandboxAQ
SandboxAQ is a business-to-business (B2B) software-as-a-service (SaaS) provider that uses AI and quantum computing to solve some of today's most complex challenges. The platform's services include crypto-agile frameworks, enterprise solutions, discovery tools, and orchestration suites.