Last month, the Office of the Director of National Intelligence issued a two-year roadmap for its data strategy. The document anticipates a number of lines of action on which the 18 intelligence community entities should embark to boost the interoperability, discoverability and artificial intelligence readiness of data inputs and output.
The preparation for artificial intelligence is crucial to the IC's end-to-end data management plan, as the burdens caused by excess data are becoming too much for any single agency to handle only through human oversight.
"We are excited for the technology and where it can take us," said Principal Deputy Director of National Intelligence and four-time Wash100 Award winner Dr. Stacy Dixon in reference to AI at a recent conference.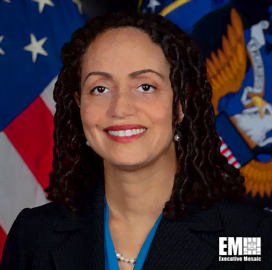 Dixon will be a keynote speaker at the hotly anticipated 9th Annual Intel Summit, from Potomac Officers Club. Register now to hear her exclusive remarks, convene with respected colleagues and to tune into the first panel session of the day, which will focus specifically on AI's usages and future within the IC. You don't want to miss this packed day of experts' discourse, held on Sept. 21 at the Ritz-Carlton, Tysons Corner.
The recent data strategy was published due to the fact that the IC was not previously acquiring and implementing data, analytics and AI-powered tools at the rate and scale that is seen as necessary to maintain a healthy decision and intelligence upper-hand over near-peer competitors like China
In her comments, Dixon revealed that the IC is utilizing AI to some degree currently, but simply not enough. It needs to reimagine itself as driven by dual purposes of both data and intelligence, rather than solely intelligence, she said.
To ready itself for this newfound emphasis placed on data gathering and processing, IC Chief Data Officer Lori Wade told Federal News Network that intricate, detailed processes for sorting and organizing data must be instituted. This will mean individual agencies creating their own individual data catalogs that will then be pooled into a larger "common IC data catalog" that can be referenced interrelatedly throughout the various IC components.
These catalogs and systemized, "highly curated data" will thus optimize the data for AI mass-processing.
Adding a cautious tone, Dixon was quick to note that — despite the accelerated timeline seemingly indicated by the two-year data strategy — AI will be introduced "incrementally" and "in a smart way" across the IC. Its integration will also need to be performed in a manner that is assistive to both the government and its industrial base partners.
Want to know more about how top leaders are envisioning AI fits into the U.S. intelligence community? The 2023 edition of Potomac Officers Club's annual Intel Summit is here just in time. Register now for the Sept. 21 event, which will feature a panel discussion on AI's role in advancing the IC's fight for data security and decision advantage.
The panel brings together seasoned voices like Dana Madsen, national intelligence manager of the Cyber Threat Intelligence Integration Center; Dr. Trent Maul, director for analysis at the Defense Intelligence Agency; and Rhett Skiles, deputy assistant secretary for cyber and emerging technology intelligence at the Office of Intelligence and Analysis in the Department of the Treasury.