In today's global landscape, information is the weapon of choice. The cyber aggressions playing out in the conflict between Russia and Ukraine have been well-documented and China has been strengthening its electronic warfare capabilities over the last several years.
"I think that most nations want to avoid the attrition that comes from the kinetic in favor of a more quiet cyber war," Lauren Knausenberger, chief information officer of the Department of the Air Force and 2023 Wash100 Award winner, mused in an online dialogue with the Mitchell Institute in Nov. 2022.
In order to prepare for these challenges, the U.S. Department of Defense introduced a plan in late November to implement zero trust architecture across its agencies and service branches by 2027.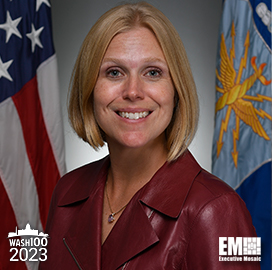 If you want to learn more about the U.S. Air Force's goals and thinking behind its cybersecurity strategies—as well as investigate other forthcoming USAF initiatives—please join us for GovCon Wire's 3rd Annual Air Force IT Modernization and Transformation Forum. Register here.
This virtual event will be held on March 21 from 8 a.m. to 10 a.m. and Knausenberger will deliver the keynote address.
Zero trust at a glance
ZTA is a cybersecurity philosophy that situates programs and networks to operate with the assumption that a threat actor may always be trying to breach their repositories. Under ZTA, authentication of users is required at nearly every step to ensure that if someone is trying to infiltrate, they have to clear many password-protected zones, not just one.
"Zero trust, we recognize, is one of the most dear capabilities to the future fight. Not because it's, you know, cool tech — it is cool tech — but because it allows us to simplify our environment, and it makes us inherently more secure," Knausenberger shared at the Mitchell Institute event.
ZTA: applications and benefits
At full scale, the policy brings with it components such as software-defined wide area networking, identity credential access management, data fabric and hybrid and edge cloud computing, according to the DAF CIO.
In her speech at the AFCEA's TechNeat Indo-Pacific conference in November, Knausenberger said that 2023 is looking to be a landmark year for zero trust in the DAF. She also told the audience that zero trust is significant not just for its boosts in protection and security but also for its assistance in moving the DOD closer to enacting Joint All Domain Command and Control, its communications and network unification concept.
The DAF CIO suggested that a completely operational ZTA could mean that international outfits such as U.S. Air Forces in Europe wouldn't need 22 different networks; that unclassified and secret information distinctions could be "collapse[d]," and that mission partner environments could be done away with "because I can tag my data, and I can just make sure that the right people have access to what they need."
Knausenberger believes that, in effect, ZTA could thus streamline and distill communications and information-sharing across the DAF and the DOD at large, creating an environment that's at once totally interoperable and secure. This, she believes, would make the U.S. better equipped to fight the cyber battles in which opponents are increasingly engaging.
Hear Knausenberger elaborate more on the benefits of zero trust architecture, as well as discuss the Air Force's other technology activities and ambitions, at the Air Force IT Modernization and Transformation Forum on March 21. The 8 a.m.-10 a.m. event will be virtual. Register here.
Jennifer Krolikowski-Stamer of Space Systems Command and Joe Staier, chief engineer of the Air Force, will speak on a panel following Knausenberger's keynote address.