On Wednesday, top executive officials from federal space agencies and industry spoke on optimizing acquisition processes, accelerating technology innovation and creating more interoperable systems in the wake of massive space sector reorganization and reinvigoration efforts during GovCon Wire Events' Space Acquisition Forum.
Following an opening keynote address delivered by Brig. Gen. Steve Whitney, military deputy at the Office of the Assistant Secretary of the Air Force for Space Acquisition and Integration, SAIC's space business unit Senior Vice President David Ray led a panel conversation on synergizing capabilities and acquisitions across multiple U.S. space and defense agencies.
Panelists Johnathon Caldwell, vice president of business innovation, transformation and enterprise excellence for Lockheed Martin's space business, the Missile Defense Agency's Executive Director Laura DeSimone, Colonel Jeremy Raley, director of the Space Rapid Capabilities Office's strategic capabilities group and Dr. Derek Tournear, director of the Space Development Agency, gathered to talk about accelerating the country's innovation in a new age of space development.
If you missed Wednesday's event, visit the GovCon Wire Events page to view the full Space Acquisition Forum on-demand now.
SDA's Derek Tournear kicked off the panel conversation with a look at how space organizations in the public and private sectors are undergoing cultural shifts to achieve synergy and better align with Department of Defense mission priorities.
"A lot of our leadership comes from industry," Dr. Tournear shared. "We want to make sure that we capitalize based on lessons learned in industry on what is feasible, how can you actually move out quickly and how to push that out to a proliferated, very affordable system."
Additionally, Tournear, a Wash100 Award recipient, highlighted cross-agency collaboration as an important component in innovation. "We should have a competition of ideas and move forward rather than try to have very distinct lines in the road that are defined," he explained.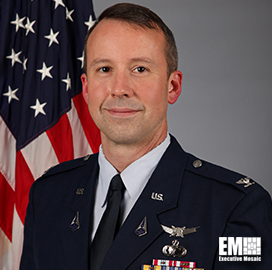 Col. Jeremy Raley concurred that the synchronization of capabilities across departments is key to each accomplishing their respective missions. "For Space RCO to be able to achieve our focus of delivering to the warfighter quickly, there have to be things that we don't worry about," he stated.
He highlighted the integration and use of the Space Development Agency's communications networks and the Missile Defense Agency's notification of launch and space domain awareness capabilities as integral to the RCO's mission.
Col. Raley also shared that a critical aspect of space domain awareness is a robust data sharing strategy.
Next, Johnathon Caldwell stepped in to give his industry perspective on overcoming the United States' history of playing it safe in regards to space innovation.
"We came through a period of time where the value was placed on getting it right the first time and every time, and we collectively created a culture of risk aversion," Caldwell said.
However, Caldwell said the rapid democratization of space has fostered a new culture of growth, fast development and healthy competition within U.S. space agencies and their industry partners.
"It has forced us to rethink what we value," he shared. "Valuing speed, valuing rapid innovation and a tolerance for risk is something that is refreshing."
Laura DeSimone agreed that embracing experimentation has been the most significant cultural shift within the Department of Defense in response to intensifying competition with adversarial forces in space.
Of other countries' space capabilities development efforts, DeSimone noted that, "they don't have a bureaucratic system behind them slowing them down," unlike the sometimes slow acquisition process within the DOD.
"I think embracing demonstrations, experimentation, continuing to reform such that we have streamlined acquisition processes – and then internal to the government, collaborating on requirements – are really gonna be the keys as we move forward to a robust space architecture," opined DeSimone.
To hear the full panel discussion on synchronizing space organization capabilities and missions, visit the GovCon Wire Events page, where you can view the Space Acquisition Forum on-demand now.
Join GovCon Wire Events for its FAA: Climate Change Priorities Fireside Chat on Jan. 26 to hear from Kevin Welsh on how the Federal Aviation Administration is working to implement sustainability efforts, adopt environmental policies and address climate change across the nation's airports and facilities.
Click here to register for the FAA: Climate Change Priorities Fireside Chat on Jan. 26.